Amadeus highlights from Mobile World Congress 2019
This was our 19th year at MWC. Just like in fashion (those high-waisted, two-colour jeans we wore in the 80s are back in vogue) the revival of past industry themes began to age us.
MWC 2019's main theme was "Intelligent Connectivity". While it was defined as 5G+AI+IoT+Big Data, it definitely felt like a remix version of 2013.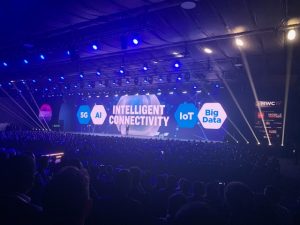 2013 was the year that GSMA launched the OneAPI exchange "which will deliver network capabilities to mobile apps," said Michael O'Hara, Chief Marketing Officer, GSMA at the time. "By supporting closer operator-developer relationships and greater cross-carrier interoperability, the platform will lead to seamless access to exciting mobile apps with enhanced features."
We used to refer to this as mobile "smart pipes" technology.
OneAPI was one of many (unsuccessful) attempts by the mobile operator community to capture more of their consumers' digital lives. Operators continue to face this strategic conundrum, as highlighted during some of the keynotes. The CEOs of Telefonica Group and Singtel Group mentioned that mobile data will grow by 400% by 2025 yet their companies' revenue growth is expected to shrink from 5% to 1% in the same period.  IoT will not come to their rescue, as the CEO of Singtel explained. In the IoT market, applications, platforms and services are expected to account, by 2025, for 95% of all revenues and connectivity only 5%.
Coming back to Barcelona over the years, we have witnessed the mobile operators' frustration at having to invest billions in spectrum and equipment to serve the surging demand in mobile data, whilst facing the accelerating commoditisation of connectivity and their inability to successfully launch their own digital services.
The same week, I experienced the above first hand when my wife – having dropped her beloved Samsung – went into her mobile operators' shop to arrange a replacement, as she was almost due an upgrade. Originally on a contract with 1GB of data a month, she was offered 3GB for the same price and then, because of the inconvenience of having to wait a week for a new phone, she was upgraded to 10G a month and two years' subscription to Spotify. The operator must have looked at her usage history and deduced this was a safe bet. Little did they know that our two daughters would then start tethering their phones to hers, playing YouTube non-stop!
Despite the strategic cul-de-sac that the operators have been stuck in over the past decade they must have been doing something right (besides connecting 2/3 of the world's population) – as the table below highlights:
2009-2019
Annual
Return
with dividends
reinvested
2009-2019
Annual
Growth
VODAFONE GROUP
6.60%
FTSE 100
5.60%
VERIZON
13.80%
S&P500
12.20%
AT&T
9.00%
NYSE
8.30%
TELEFONICA GROUP
-1.10%
IBEX35
0.80%
SINGTEL
5.90%
MSCI EMs
3.80%
CHINA MOBILE
6.80%
SH.COMP
2.40%
AMERICA MOVIL
3.70%
Average
6.40%
5.50%
S&P GLOBAL 1200 UTILITIES
3.80%
An investment over the past 10 years in the stock of the mobile operators above (representing 64% of global subscribers) would have led to an annual return (including dividends reinvestment) 15% higher than relevant market indices. Despite often being compared to utilities – because of their inability to own the digital services layer above – their returns have been 67% higher than utilities[1].
Whilst most of the operators seem to have happily settled for the status quo of being providers of "intelligent connectivity" some have not given up the fight to own the digital services layer. Last year was the turn of AT&T with their acquisition of Time Warner. This year, five initiatives stood out for me at MWC:
Singtel announced that 25% of their revenues were from non-connectivity businesses. These were from mobile advertising (thanks to its acquisition of Amobee in 2012 and more recently Kontera, Adconion, Videology and Turn – close to $1.1B worth of acquisitions), security (Trustwave acquisition in 2015 for $810m), data geolocation analytics (DataSpark spin-off) and streaming (via its investment in Hooq at close to $50m).  All in all, over the past seven years Singtel invested close to $2B in M&A and non-connectivity activities, generating north of $3B in revenues in 2018 – a seemingly good return on their investment.
Korea Telecom Corporation (KT) announced a partnership with Cognex, the US developer of machine vision solutions, to launch a cloud-based service that enhances manufacturing productivity on the production line. The idea is to connect Cognex sensors and equipment to the cloud wirelessly (possibly via 5G networks) and have the machine vision processing done remotely in the data centre with the results sent directly to the manufacturing process software and ERP systems of their clients. This moves Cognex's business model from hardware (only 10% of revenues are currently in services) to a Data as a Service (DaaS) model. This looks to be one of the most immediate and relevant applications of 5G.
Orange and MTN announced a partnership that signalled a truce in their battle for new subscriber acquisition in Eastern Africa. The two operators launched a JV between their mobile money offerings called Mowali (Mobile Wallet Interoperability). It is "bringing together over 100 million mobile money accounts and mobile money operations in 22 of sub-Saharan Africa's 46 markets. Mowali is a digital payment infrastructure that connects financial service providers and customers in one inclusive network. It functions as an industry utility, open to any mobile money provider in Africa, including banks, money transfer operators and other financial service providers". The race to emulate m-Pesa is obviously still on in sub-Saharan Africa.
Digital Operator (DO) 1440 (the number of minutes in a day) is a fully-owned subsidiary of Turkcell, via its ownership of Lifecell, the third largest Ukranian operator. Turkcell is a success story that does not get enough press in my opinion. It has become the fastest growing operator in the last three years, with 49% bi-annual cumulative growth as of Q4/2018. At the core of this offering it is BiP, an enhanced version of WhatsApp launched by Turkcell.  Besides OTT messaging and voice and video calls, it provides live location sharing, money-transfer-in-chat and gaming. Being a carrier's product, it also integrates more closely with the network enabling, for example, app to landline calls, which is not possible with pure OTT services.It also has a market place for content providers who can access BiP consumers. 300 of these have been launched so far. The app Surprise Point was played 310m time on BiP in 2018. With 34m downloads in 2018, this has become the most downloaded app in Turkey. Texts sent through BiP jumped from 9.7 billion in 2017 to 34 billion in 2018. BiP calls increased to 1.1B from just 427 million minutes within a year. While this pales in comparison to WhatsApp global figures of close to 24 trillion messages a year and 730 billion minutes per year, you find that BiP is growing comparably fast in Turkey.DO 1440 has anchored its offering around BiP but has added Livebox (photo and video cloud storage and sync with face-recognition), Fizy (digital music streaming platform), Yaani (search engine and browser), Okudo (digital content – newspapers and magazines), TV+ (IPTV platform) and many other services. In Turkey, total subscribers to these digital life services has reached 85m; DO 1440's goal is for them these to spend as many of their daily 1,440 minutes on their platform as possible.Turkcell is now offering this platform and apps as a service to other operators. At MWC 2019, they announced the first contract with Digicel – an ideal partner for this offering. This is the bravest challenge to the OTT players (mainly Facebook and Google) that has come from the mobile operator community in a very long time.
Vodafone and Arm announced a partnership in the IoT space. Vodafone has the most developed IoT platform in Europe with north of 60M subscribers available in 200 countries through roaming agreements.  Arm's Pelion IoT platform, on the other hand, is a "device to data" platform that spans from IoT specific "system on a chip" (SoC) solutions, embedded OS to device and data management.  Arm has probably the largest market share in new IoT module designs.  According to the announcement, "this partnership brings together Vodafone IoT global platform and connectivity and Arm's IoT software and services, to provide enterprises with programmable, connected system on chip designs that eliminate the need for traditional SIM cards. This allows customers to securely deploy, remotely provision and manage massive numbers of IoT devices across global markets at a significantly lower cost and complexity."  This partnership covers both Narrow-Band IoT and LTE for Machines (LTE-M) types of connectivity. It is going to be increasingly hard for smaller, independent IoT platforms to compete in this sector unless they specialise and, possibly, vertically integrate – in niche industrial segments. In this respect, the 5 year share price charts of Sierra Wireless and Telit are rather telling.
Other 2019 "remixes" at MWC included:
5G – The positioning of 5G was 'go faster racing stripes' for 4G. Same mobile data services, just faster. A lot of emergency services 'proof of concepts' were around, ranging from remote surgeries – including the GSMA CEO watching a remote surgery sitting at his desk wearing surgical scrubs and mask (!?!) – to ambulance procedures support and mountain rescue. When it came to 5G devices, they were mostly displayed on a 'look but don't touch' basis.
IoT – The connected robotics on display seemed like solutions looking for a problem. I saw robot hotel butlers delivering room service, assistants helping people find the correct paintbrush in a hardware store and a replacement jazz band for a bar. An exception is KT's service as mentioned above. The halls were still filled with concept vehicles but I found very few drones and no scooters, bikes or boats. It looks as if 4G is good enough for the simpler type of vehicle.
Immersive, Augmented (AR) and Virtual Reality (VR) – HTC seemed to re-launch the whole company on its VIVE VR product line. The CEO's keynote had almost messianic overtones when she explained how the "trinity" of humanity, technology and imagination can catapult us to a better future – mostly virtual. In reality, most of the applications where again around gaming.Microsoft launched its Holo2 with a series of tangible, industrial proof of concepts, such as virtual schematics for in-field electric installations and holographic diagrams for large construction processes.While B2B applications were in industrial niches, most B2C applications were still centred around escapism. This troubles me. Most industrial applications will be high value but low volume. The consumers able to afford VR sets, peripherals and the 5G connectivity needed to operate them, are likely to be quite satisfied with their actual reality. I struggle to see then how this technology can scale over the next 5-10 years to volumes that will drive down product unit costs low enough to enable mass adoption. Our portfolio company Tobii has some very interesting eye-tracking technology being applied to this field.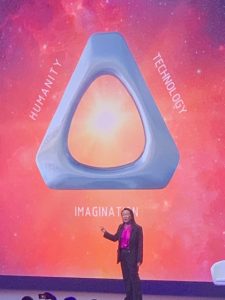 AI – This featured in every presentation but in few of the demos that I saw. Everything was described as AI-enabled, powered, driven etc. but being all-pervasive it was hard to discern its application – unlike at the Amadeus Early Stage Funds' annual portfolio showcase where many of our AI-first investee companies produce impressive demos. An emerging limitation seems to be the computing power needed to scale AI beyond the experimentation stage. Despite this, I am starting to notice AI applied to many of my everyday tools:

Waze is producing better alternative routes (not only based on time to destination)
Office365's spreadsheet is now deducing the titles of my tables when I copy and paste formulas. Soon it will be able to recreate a table in Excel from a picture taken with my phone (I can't wait for this one)
Spotify suggestions are now more than just different tracks from the same artists I recently listened to
Amazon – knowing where I live – has stopped offering me skiing apparel after April but it still does around Christmas!

Applied AI is increasingly improving the digital services we use daily but for true, 'deep tech' innovation in this field, I will stick with the Amadeus portfolio rather than searching for it in the MWC halls.

19 years in, it felt as if the pace of mobile innovation was slowing down and technological improvements would now be steady but marginal. 'Maturing' is probably a word that many of us, walking around the Fira Halls, had in mind but secretly hated to admit it. Just like it's hard to accept that you can't fit in those high-waisted jeans you wore three decades ago, even if they are back in fashion.
[1]*S&P Utilities Index ↑
Andrea Traversone
Amadeus Partner
atraversone@amadeuscapital.com