Here is a polarising topic – I've stopped counting how often we get asked if the best venture capitalists are former entrepreneurs.
As an early stage tech investor who spent a decade in the start-up world before being privileged enough to back some of the most talented entrepreneurs as an investor at Amadeus Capital Partners, I have a view of both sides of the table. Instinctively, I relate to entrepreneurs who prefer investors that have walked in their shoes…only to observe that some of the most talked about VCs are often former bankers or journalists. Think Mary Meeker, John Doerr, Kirsten Green or Bill Gurley, to name just a few. Yet the notion remains intuitive and enduring.
Let's put the data to the test. Every year The New York Times partners with CB Insights to publish its list of the top 100 VCs in the US. Not swayed by narrative or a storied history in venture capital, they pick the top brass based on:
Exits (frequency/volume, size, and stage of entry);
Network centrality (connectivity to other investors);
Consistency (stage, industry consistency)

;

Illiquid portfolio value (frequency, size and stage of entry in high value); and finally
Recency of performance (only considers data from 2010 onwards; doesn't give much credit to those who made glorious picks in the 80s, 90s, or early 2000s).
The objective of the ranking is to fish out today's best VCs — not the best VCs in history. The chart below summarizes the 2019 data. Of the best tech VCs in the US, 42% founded or co-founded a company before becoming venture investors, and altogether 67% experienced the scale-up journey of tech businesses, often several times. A number also went on to found VC firms, which are start-ups in their own rights, pushing the total number to 78%.
All in, only 22% of the top investors have no entrepreneurial or scale-up experience.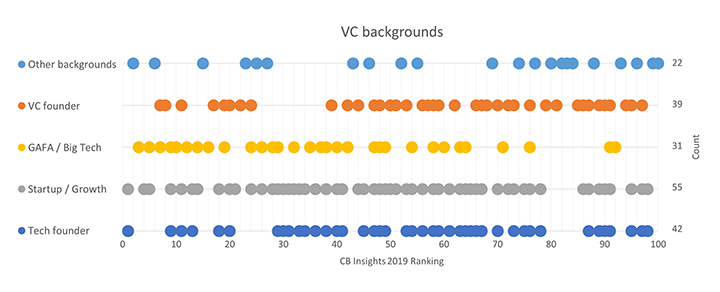 We then took the point further, knowing that behind every successful investor is a team and a partnership, and asked whether the backgrounds of all partners in top firms – not just that of star investors – correlates with performance. 
LPs will tell you that a good VC is hard to find. Industry performance is rather sobering, with most venture funds living short lives as they fail to generate attractive returns (or any returns) for their investors. On the other hand, the best VCs can be truly spectacular, both for their investors and the entrepreneurs with whom they partner. In 2015, a study by Endeavor based on US only data from PrivCo and InvestorRank identified a group of 30 top-tier VC firms including usual suspects Sequoia, Benchmark Capital and Andreessen Horowitz.
They dived into the background of their partners and compared them with a second group of 30 firms drawn randomly from the US National Venture Capital Association's member list. As the chart below illustrates, partners at top-tier VC firms often have experience as founders or senior executives at entrepreneurial companies. On average, 40% of the current partners are experienced entrepreneurs, and almost one-fifth of them are former C-level executives at startups. In total, nearly 60% have first-hand entrepreneurial experience. This is twice as much as the control group.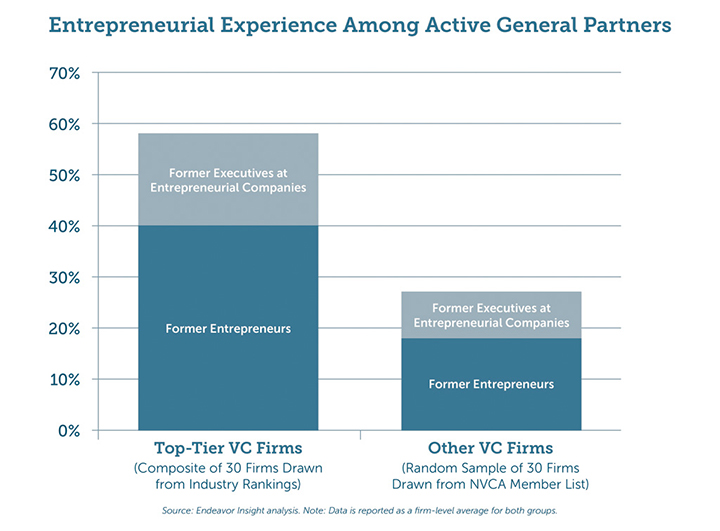 If we go further back in time and analyse the founding teams of these venture firms, the difference is even greater. 63% of the original partners came from entrepreneurial backgrounds — and more than 50% of these partners were founders. Within the group of randomly selected venture firms, less than 20% of them ever experienced entrepreneurial companies.
As an aside, if you think that the gap in the US is confounding, look no further than home. In the UK a mere 8% of investors have experienced first-hand what it's like inside a fast-growing company (Diversity.VC data). You may also be wondering about the backgrounds of the partners in the US sample of non-top-tier firms. If they didn't lead entrepreneurial companies before becoming venture investors, what did they do instead? The most common career backgrounds among the partners at these VC firms were consulting and banking.
So, what makes a great VC? Well, many things, but when it comes to background, the data indicates that the best performing firms, historically and today, do have a majority of partners with entrepreneurial and scale-up experience. Again, instinctively, these VCs are able to better leverage their knowledge and networks to lead their portfolios to success.
As Alex van Someren, Managing Partner, Early Stage Funds, says, "At Amadeus, we're big believers in the benefits of having former entrepreneurs in our investment team: we think they help us be more empathetic and supportive of the founders we back."
I hear you asking about Amadeus Capital Partners: five out of seven of us are former tech entrepreneurs.