Creditas attracts new investors that, together with existing partners, inject US$255mn in the company to continue with the accelerated growth

Credit portfolio passes R$1 billion and team reaches 1,800 crew members

Since the last Series-D round, company has grown revenues more than 3x and expanded the product offering

The new round values Creditas at US$1.75bn, emerging as one of the more capitalized Latam fintechs (US$570mn raised through 5 financing rounds)

Company aims to continue accelerating growth over the next 2 years and consolidate the 3 growth drivers: fintech, consumer solutions and international
São Paulo, 18 December 2020
Today we announce the closing of a new US$255 million investment, valuing Creditas at US$1.75 billion. The Series-E round brings new international investors including LGT Lightstone, Tarsadia Capital, Wellington Management, e.ventures and Advent International affiliate Sunley House Capital. Current investors SoftBank Vision Fund 1, SoftBank Latin America Fund, VEF, Kaszek Ventures and Amadeus Capital Partners participated in the round, reinforcing their trust in our future growth.
LGT Lightstone, an impact investment fund focused on high growth companies, led the round and joins Creditas' board. "LGT Lightstone invests in companies that generate impact through technology and innovation. We have been following Creditas for a long time and we believe it has the perfect combination of a high-performance team and a huge addressable market that is being poorly served by traditional financial institutions" explains Marcos Wilson Pereira, Managing Partner of LGT Lightstone in Brazil.
"Creditas is still in the early innings of penetrating the huge untapped secured lending market in Brazil and Mexico" says Paulo Passoni, Managing Partner of Softbank Latam fund. "It has been a privilege to support Creditas along its remarkable journey to reinvent the lending experience in Brazil. We are proud to back such a great and ambitious team" explains Pat Burtis, Partner, Amadeus Capital Partners. "When a company and team are delivering growth and unit economics like Creditas are, we don't hesitate to back it harder – it's a very special asset" says Dave Nangle, CEO of VEF. "The journey since our investment in the Series A has been absolutely extraordinary. The team has executed on its vision, and Creditas has evolved into an asset-light ecosystem that resolves key financial needs of its customers throughout their lifetimes", says Nicolas Szekasy, Managing Partner of Kaszek Ventures.
The new capital will allow us to continue progressing towards our objective of helping our customers with their life accomplishments. With the new investment we will continue the process started in 2019 to expand our product offering along 3 growth avenues:

Fintech: A complete financial services ecosystem – modern, digital and with low-cost products for our customers

Consumer Solutions: A solutions platform that allows our customers to untap the value of their real estate properties (home solutions), cars (auto solutions) and salary (Creditas @work) as well as the first ecommerce platform in Brazil that allows customers to pay through our innovative salary discount (Creditas Store).

Mexico: After reinventing the Brazilian market, we are committed to deliver the same disruptive experience to the Mexican consumer.
Creditas was founded in 2012 with the objective of creating a company able to reshape the Brazilian financial system. Although that system had accomplished its critical role of providing basic banking services to the population, even at that time it was full of inefficiencies resulting in extraordinarily high lending rates and banking fees. Since 2012, when we started in a 5 sqm office on Berrini Avenue in São Paulo, we have progressed through 3 phases in which we adopted an increasingly aggressive strategy:
Secured Lending Marketplace (2012-2016): we anticipated a trend towards digitalization of the Brazilian population and created an online platform that allowed traditional banks to deliver online secured loans

Secured Lending Platform (2016-2019): realizing the need to become more independent in order to create a high-quality lending product, we launched our own home equity and auto equity solutions, migrating from a channel to a product strategy


Solutions Ecosystem (2019-): we reevaluated the market and initiated a new adventure with the expansion of our credit and fintech platform, the development of a new consumer solutions vertical and our internationalization to Mexico
 Today Creditas is a consumer-focused digital platform operating in multiple verticals:
Secured lending: Home Equity, Auto Equity and Auto Financing

Creditas @work: Payroll loans, salary advance, benefits card and pension plans

Consumer Solutions: Creditas Store, Home Solutions and Auto Solutions
As we all know, 2020 has been an unusual year. March 13th was our last day at the office. We managed to migrate our 1,500 crew members to remote work in a matter of days. Our team-mates are true heroes as they were able to keep our operation working and our customers happy in the midst of this unanticipated transition. In a context with extreme covid-driven uncertainties, in Q2-2020 we decided to prioritize profitability and generated positive cash flow. By end of July, however, it was evident that our business model was resilient as we confirmed that our credit portfolio had remained with excellent quality and debt capital markets had stayed wide open for us. With that validation, we returned to our pre-covid growth path and finished Q3-2020 at similar levels to Q1-2020, with September becoming our record month at R$30.4mn in monthly revenues.
 Speaking of results, we will now start to share quarterly results of our main operational metrics with the objective of increasing transparency to the market. In addition, some of our investors are publicly listed funds and we believe that this transparency contributes to better functioning of capital markets.
Consolidated quarterly results
| | | | | |
| --- | --- | --- | --- | --- |
| In R$ millions | Q3-2020 | Q3-2019 | 9M-2020 | 9M-2019 |
| Credit portfolio | 1,039.9 | 534.7 | 1,039.9 | 534.7 |
| New Loan origination | 227.2 | 162.4 | 591.2 | 342.1 |
| Revenues | 78.8 | 54.8 | 232.1 | 111.9 |
| Contribution margin | 42.6 | 34.1 | 124.2 | 58.2 |
| Margin / Revenues (%) | 54.0% | 62.2% | 53.5% | 52.0% |
| Net Income | -40.5 | -74.9 | -129.4 | -133.1 |
Annual revenues evolution (R$ millions)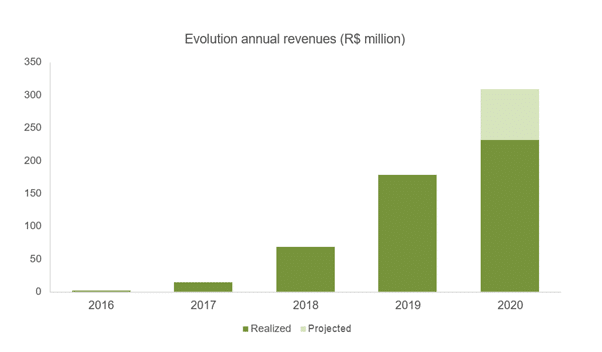 Sergio Furio
Creditas Founder & CEO